I'm constantly working on maintaining and improving BuddyPress, WordPress, and a stable of free WordPress plugins. Most of the time, I don't single out that work for a blog post. But a set of recent updates to the illustrious Anthologize is worth a mention.
You may remember Anthologize as a project that grew out of the original One Week | One Tool project back in (gasp) 2010. The OWOT team maintained the tool, a WP plugin for generating ebooks from WordPress content, off and on through the months and years following the initial release. Since then, I've tried to keep it minimally up to date with the latest versions of WordPress and PHP, knowing that there was a small community of folks for whom Anthologize was an important part of their workflow.
One of these Anthologize stalwarts was the OpenLab at City Tech, a project I've consulted with for a number of years. As part of an initiative to provide better tools for faculty creating and teaching with Open Educational Resources (OERs), they were hoping to make some improvements to Anthologize. As such, we partnered over the second half of 2018 to make some improvements to Anthologize that improve its utility in this kind of classroom usage. Some highlights:
Massive accessibility improvements throughout, including a rewrite of much of the admin interface to better match WordPress's.
New search and filter tools on the Project Organizer's sidebar, including an Order By option and expandable metadata for each item.
The ability to include post date and post author in PDF exports.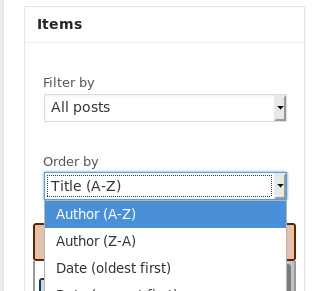 These new features, originally developed for the OpenLab, are part of the Anthologize 0.8.0, available now.
This project is a great example of how an institution can take an interest in what might otherwise become a moribund piece of software and, by partnering with a free-software-oriented consultant like Hard G, can create tools that benefit themselves in addition to a larger community of users.